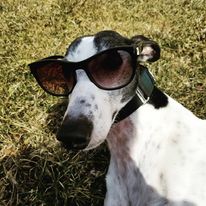 Welcome to Milestone Golf Course! You may be able to tell by the photo of Casper that we don't take ourselves too seriously. Afterall, golf IS supposed to be fun. However, we do take our job of creating the best possible course conditions in a fun, friendly manner for everyone very seriously.
Our philosophy is simple: 'Come as You Are'. What exactly does that mean? Well, its pretty simple – we don't have a dress code. But it goes beyond that. Golf is just a game and should be accessible for anyone interested the most famous of 4-letter words. Our goal is provide a welcoming, enjoyable experience for golfers of all ages and abilities. We ask 3 things from our golfers: Respect the course, respect each other and have fun! We can't wait to see you at Milestone.
– Ali, Brad, Freddie + Cora, Casper and CiCi
Frequently Asked Questions
Do you Take Tee Times?
No we do not. We strive to ensure that we are available for everyone, including those who may be looking for an impromptu round or coming off the job site in the evening. With 26 shiny new electric carts arriving for the 2022 season, we can assure you that we will get you out whenever you are ready. While you may have to wait 10 or 15 minutes, during busy periods, we encourage you to take the time to give the three greyhounds ample attention – they do appreciate it!
If you have a larger group and want to ensure consecutive 'tee times', give us a shout and we will make it happen. 
Can i Bring my Young Child or Non-Golfer with me?
Why yes, yes you can. In fact we encourage it. Children under the age of 16 are always free at Milestone. And if your significant other doesn't play but would like to chuckle while you swat a little white ball around they are more than welcome. If your group requires an additional cart, they will simply pay the cart fee. Please note – you must be 16 to operate a golf cart!
Is there Really No Dress Code?
No there is not. Well, within reason. You must actually have clothing on. And for the health of our turf we do not allow baseball, football or any alternative types of cleats on the course. But if you haven't tried it yet, walk on a beautiful bentgrass green in your bare feet. It may just make your day…
Can I bring my own beverages?
That all depends. You are free to bring any NON-ALCOHOLIC beverages you like. Outside alcohol is prohibited per our NYS liquor authority license. We do offer a full compliment of beer, seltzers and club cocktails along with non-alcoholic options at a great price. We thank you in advance for leaving your cooler at home!
Location
2338 County Rt. 18
Hampton, NY 12887
Interested in joining a league, scheduling a tournament/event, or have a question for Brad & Ali? Drop us a quick note and we will get back to you shortly. 
Hampton, NY
2:48 am, October 3, 2023
61°F
Wind: 0 mph
Pressure: 1021 mb
Visibility: 10 km
Sunrise: 7:29 am
Sunset: 7:11 pm